Ummm... these pictures pretty much speak for themselves.
Riding a beaver! Really, look closely that piece of playground equipment is a fiberglass beaver... this is from a company picnic, your supose to embarrass yourself at those things aren't you?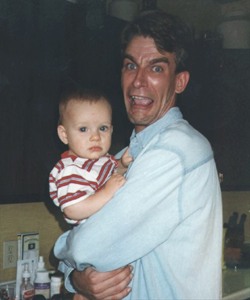 Here's me crying like a baby because somebody made me take care of my nephew Ethan. It's not that I don't like kids, I just don't have any experience with them (except that maybe I am one :-)
Did somebody say roadtrip? Here's Julie, Chuck, myself and Dave at the aerial lift bridge in Duluth, MN... somebody remind me again why people live that far north!?
Flame for the 1996 Olympics in Atlanta arrives in Hickville, USA, via train... enuff said I hope.